As a member-owned, not-for-profit financial cooperative, Robins Financial is committed to our members. Our fundamental responsibility is to actively serve people within our field of membership, and as appropriate, the communities in which they live. All members will be treated with respect and dignity and we will offer honest, fair service at all times. The value of membership will continually be demonstrated in all facets of operations at Robins Financial Credit Union.
Because You Deserve Better Banking!
Our Statement of Commitment to Members is consistent with our credit union principles of, "Not for Profit, Not for Charity, But for Service," and our philosophy of "People Helping People." These statements represent good business practices that ensure the financial strength of our credit union on behalf of our members.
Our Vision Statement
"To be the financial provider of choice."
Our Mission Statement
"Delivering quality financial services conveniently and efficiently."
 
History of Robins Financial Credit Union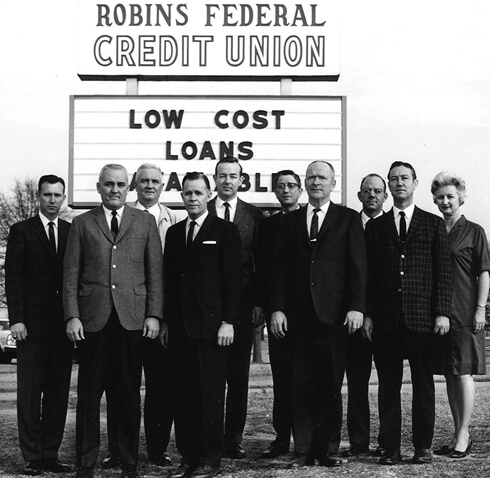 Interest in the new credit union was widespread and support developed rapidly. By December 31, 1954, some 1,776 people had joined the credit union. Deposits totaled $72,139 and 720 loans totaling $119,189 had been made. This was a modest beginning for a financial institution that currently has 22 branch locations, over 216,000 members and more than $2.8 billion in assets.
In January of 2016, Robins Federal Credit union became Robins Financial Credit Union when the credit union converted from a Federal charter to a State of Georgia Charter. This allows Robins Financial to offer financial services to family members of current members and those that live or work in the following 40 counties:
Baldwin • Barrow • Bibb • Bleckley • Bulloch • Butts • Clarke • Crawford • Crisp • Dodge • Dooly • Emanuel • Greene • Hancock • Henry • Houston • Jackson • Jasper • Jeff Davis • Johnson • Jones • Lamar • Laurens • Macon • Madison • Monroe • Morgan • Oconee • Oglethorpe • Peach • Pulaski • Putnam • Spalding • Taylor  • Telfair • Twiggs • Walton • Washington • Wilcox  • Wilkinson
Board of Directors
The role of the credit union Board of Directors is to declare dividends be paid to shareholders, approve applications for membership, establish loan policies regarding interest rates, security and loan maturity, meet at least once monthly, authorize borrowing, supervise investments, establish and maintain internal controls, and to plan and hold annual meetings for membership.
Barry Brown, Chairman
Edward C. Hilliard, Vice Chairman
John A. Jones, Treasurer
Don Jarzynka, Secretary
Jackie D. Cleghorn
Donald R. Hanson
Mike D. Parker
James E. Kidd
Mary S. Edenfield-Gibbs
Audit Committee
A Credit Union's Audit Committee must oversee the "checks and balances" of the Credit Union. In accordance with the National Credit Union Administration (NCUA) through the use of outside audits, the members of the Audit Committee make sure that the member's best interests are being served and that the credit union is financially secure.
Mary Edenfield-Gibbs, Chairperson
Troy Hubbard
Jane Parker